It is an arduous task to identify and filter the final list due to many factors. There is no strict and fast rule, but we do our best to select CEOs who have done a great job in their respective fields. There are some that appear on more than one occasion and that is testimony to their efforts to expand the limits of what they do. As always, some names may have been omitted and we invite you to comment on the list as well as additions for the future.
MUNEEB MAAYR – Bykea

A graduate of the University of Virginia, Muneeb seems to enjoy opportunities to scale companies. After almost a decade of growth of SNL Financial in Pakistan with more than 600 employees, he founded what is now known as Tehzeeb, which was acquired by Rahat Bakers. More recently, he has co-founded Daraz.pk and Bykea. His latest effort, Bykea, recently raised an impressive Series A investment of $ 5.7 million.
JAVED AFRIDI – HAIER

Afridi is a regular member of the list of the main CEOs of Pakistan for his continuous efforts within the name of the Haier family and their other projects. He owns the Peshawar Zalmi cricket franchise, which includes the Zalmi Foundation, a nonprofit organization that focuses on social assistance projects. If that was not enough, the Ambassador of China, Mr. Sun Wei Dong, has honored Afridi for an outstanding contribution of Peshawar Zalmi to the world of sports, with the "Ambassador of Friendship" for Pak China.
MUHAMMAD ALI TABBA – LUCKY CEMENT

Tabba comes to the list for the first time and has extensive business experience and is considered by some to be the power behind the expansion of Lucky Cement, which is part of the YBG group. The expansion includes an incursion in chemical products and a great association with the KIA engines that saw the manufacture of vehicles and KIA parts in Pakistan. He was also identified as a Young Global Leader by the World Economic Forum in 2010, and was received by the Government of Pakistan by Sitara-e-Imtiaz in 2018. Mr. Tabba is also Vice President of the Aziz Tabba Foundation, a non-profit organization of profit that runs two state-of-the-art hospitals in Karachi.
ZEESHAN ALI KHAN – ZAMEEN.COM

Zeeshan Ali Khan, who holds a Master's Degree in Chemical Engineering, founded Zameen with his brother in an attempt to provide Pakistanis with a service that did not exist at that time. Zeeshan went on to found the Emerging Markets Property Group (EMPG), of which Zameen.com is part along with companies in 8 other countries in the MENA region and South Asia. Zameen.com is the largest property portal in Pakistan, with around 2,000 employees and presence in more than 40 cities across the country. The portal has seen 4 rounds of investment and, apart from linking property sellers with buyers, organizes exhibitions regularly and is the largest real estate sales and marketing company in the country. The EMPG portfolio includes Bayut.com of the UAE, Bproperty.com of Bangladesh and Mubawab in Morocco, Algeria and Tunisia.
MAHEEN REHMAN – AL FALAH GHP INVESTMENT

Maheen, a graduate of LUMS, followed by an M.Sc. in Finance and Economics of the United Kingdom has made a name in the financial sector. Prior to Al Falah, Rehman worked at Merrill Lynch and IGI funds in 2009 as CEO, where under his administration the assets grew by 200 percent. Al Falah GHP Investment Management Ltd acquired the company, where it now fulfills its current function.
SHAMOON SULTAN – KHAADI

Sultan who graduated in the Indus Valley in weaving. After working with people like Noorjehan Bilgrami, I wanted to bring something unique to the market: the result is what we see today. Khaadi shows no signs of slowing his exponential growth. Khaadi has a high standard in its stores, along with an aesthetically pleasing decoration, which offers its customers a pleasant shopping experience. The reasonable price of their products has also been an important factor in their growth.
GIA FAROOQI – ROSHNI RIDES

Gia leads Roshni Rides (RR), a shared car platform created to make runners feel safe during their trips. RR won the Hult Award in 2017, surpassing the 100,000 applicants, in addition to earning $ 1 million in the process. Gia graduated from Rutgers University with a bachelor's degree in supply chain management and has given talks at several conferences, such as Momentum Tech Conference.
ZESHAN AFZAL – SHAHID AFRIDI FOUNDATION

Afzal, who is a regular member of our list of top executives, supports Shahid Afridi in the foundation that runs several projects, such as hospitals, a school initiative and water supply, among other projects. Afzal has previously served as CEO at Peshawar Zalmi, Director at Stylo and KPMG. Currently, Zeshan serves as President of Tech Pakistan and Director of Sadaqat Textile. He is also known for his color and his creative pocket squares!
DR SARA SAEED KHURRAM – SEHAT KAHANI

Dr. Sara is the founder and CEO of Sehat Kahani. The scope of Sehat Kahani includes telemedicine, health education, health research and more. Because it is IT-enabled, it ensures that it is capitalizing on available technology to penetrate the intended user base. In 2018, it raised $ 500,000 in seed funds. Dr. Sara is a qualified medical doctor and has previously co-founded the well-known facility – Docthers. For his efforts, he has received awards from Aptech, Unicef ​​and the Unilever Young Entrepreneurs in Sustainable Life Award.
Junaid Iqbal – Careem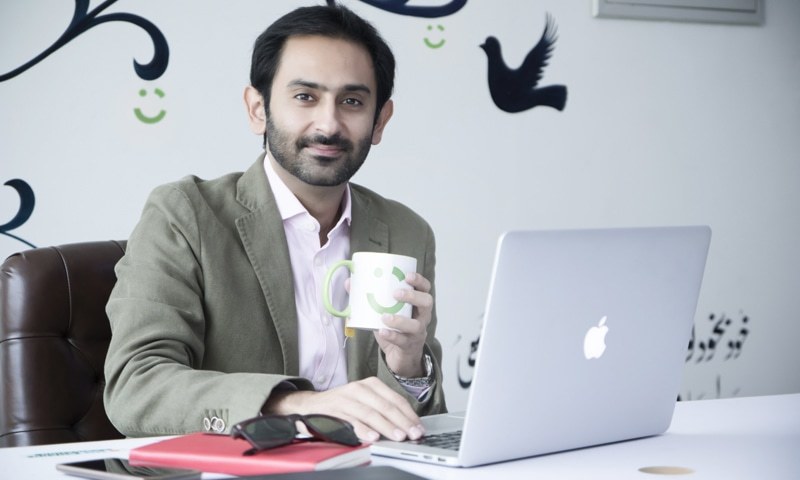 Careem started operating in Pakistan, a couple of years ago. But it has gained popularity in Pakistan, and its CEO is also quite famous. Junaid Iqbal is the CEO of Careem and is well known among the public. From the start of interesting campaigns in Pakistan to the spread of its operations from larger cities to smaller cities in the country, Iqbal has been quite socially active. Iqbal did his undergraduate degree in Economics from the University of Michigan. He has worked as a CEO in finance and security companies.